Feed The Beast Modpack

The Recently released modpack Feed the Beast is now available on our Hosting Servers. If you have a Server with us we can install this for you very easily.
Feed the beast has a lot of the mods that Tekkit uses, but its a lot more up to date and has newer mods to make this modpack even more fun than tekkit.
To install this select the type of FTB Server you want in multicraft in the Server Type drop down selector. Save Changes and Restart Your server and it will install automatically.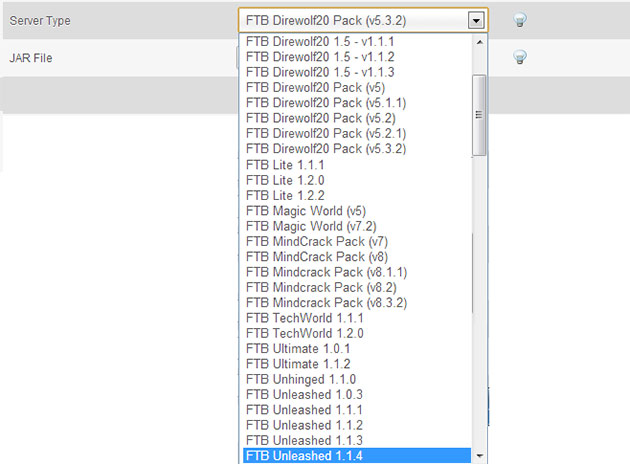 Please Note: FTB Unleashed needs to have the jar file run from the base directory of your server or it just crashes. Please contact us if you need FTB Unleashed installed for you.
You can download the client install from their website :
http://feed-the-beast.com/
The Mods used in Feed the Beat are listed here:
Minecraft Forge - Chickenbones Core - NEI - Rei's Minimap - Advanced Machines - Buildcraft - Computer Craft - Ender Storage - Extra Bees - ExtraBiomes XL - Factorization - Forestry - ForgeIRC - Gregtech - Industrial Craft - Inventory Tweaks - Iron Chests - Twilight Forest - Advanced Solar Panels - GraviSuite - Modular Forcefield System - Mystcraft - Obsidian Pressure Plates - Portal Gun - Railcraft - Steve's Carts - Thermal Expansion
Below is a video of sethbling doing a lets play using the modpack, showing off how some of it works and using a computer turtle do to work for you: