FTB Presents Skyfactory 3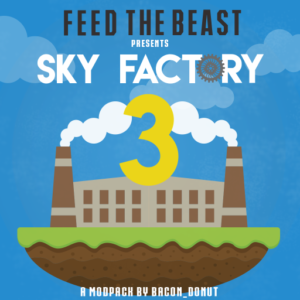 Stats
Total Downloads – 551,769
Created – Dec 31, 2016
Last Released File – Jan 26, 2017
Overview
As  always, Skyblock has high-tech mods with full automation. Enjoy the classic rush that only comes from facing down the great void and certain death with nothing but some light shrubbery and a singular patch of dirt. The latest version has a wide array of new mods giving you more choice than ever.  Grab your achievement book and get cracking today.
In this release, and in an effort to improve performance, the developers at Colossal Chests  have re-architected a significant amount of the mod to implement a new inventory system and achieve a closer integration with other mods. Some used to report the mod to be a little on the buggy side, but according to the developers, this was due to the way that other mods interact with Colossal Chests.  For example,  'Actually Additions laser relays' or 'trans-locators' simultaneously seeking to gain access to every single inventory slot can hamper server performance.  With this release, these sorts of issues should now be sorted. Other mods will still need to update their codes to interact without issue so that the new inventory system can be properly referenced.  Integrated Dynamics has made this change so there will be far less lag due to better interoperability. Soon, Refined Storage will have the same integration and is planned fro release in the 0.7 SkyFactory update.
Files
Files can be found here.
Updates and Fixes
Bug-fixes in the latest update, 3-1.10.2-3.0.6 at the time of writing, along with a summary of mods updated, configuration changes, and recipe changes can all be found here.
Media
Check out this video from  SSundee and Crainer  on one of their many zany adventured into new depths of insanity, which coincidentally takes place in Skyfactory 3 – ELDRITCH WORLD!! [21].
Help Enabling Your Mod Pack
As always, we are happy to assist you enable any mod pack you like, simply contact us to get Skyfactory 3 up and running today.