Survival Map – Desert Oasis
Hey guys.
I have been having a lot of fun playing the vanilla style survival Minecraft maps recently and decided to try a new one – Desert Oasis Survival Map.
"This is a single-player/multi-player map at which you are stuck on a tropical OASIS in the middle of the desert where you must survive! You start out with one tree at which you must replant, and survive before nighttime comes."
Rules:
1) You are not allowed to go into the void surrounding the desert.
2) No hax0ring"
I was enticed by the screenshots and the long list of challenges to complete (Over 80 all up), and plus the idea of a small little oasis amongst the desert sounded fun.
I played this multiplayer on a server we host with a mate. From the get go we were on the defensive trying to get a basic house together to survive the first night. A few deaths, countless creeper explosions and many laughs along the way we moved onto building our proper base. We chose the giant sand hill as a perfect place for the base and began building a staircase up.
I have really been enjoying play proper Vanilla minecraft and not hacking in any items, where you have to struggle just to survive and build a shelter, so the survival style of maps are great for this.
There are quite a few things to discover such as an island in the sky, a secret house under the map in the caves and a monster dungeon.
You can download the map here: and view the map thread and challenge list here:
Here are some screenshots of the map.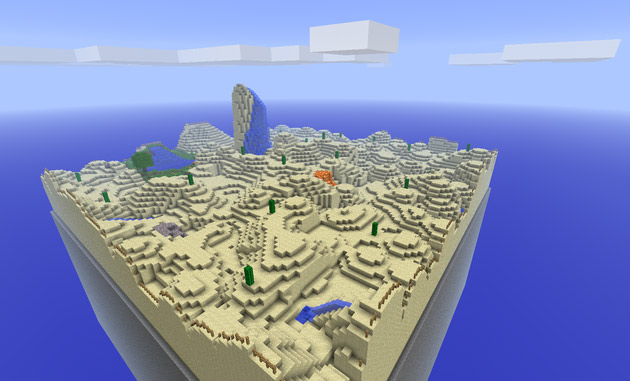 Download it, upload it to your server and let the adventure begin!